The surviving "Poilus" (French veterants) on October 30th, 2007
Maurice Floquet
25/12/1894
10/11/2006
Legion of Honor Officier
Infantryman, wounded in the face (gueule cassée)
Louis de Cazenave
16/10/1897
Legion of Honor Knight
Foreign Infantryman
Lazare Ponticelli
07/12/1897
Legion of Honor Knight
Mountain infantryman
Jean Grelaud
26/10/1898
25/02/2007
Legion of Honor Knight
Infantryman
René Riffaud
18/12/1898
15/01/2007
Legion of Honor Knight
Artilleryman
Raymond Guay
11/02/1900
02/01/2007
(Is not considered as war veteran)
Air army ground soldier, volountary
Raymond Cambefort
17/04/1900
(Is not considered as war veteran)
Infantryman, voluntary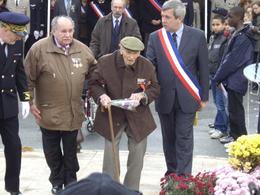 Lazare Ponticelli, one of the last two surviving "Poilus" , walking to the War Memorial of Kremlin-Bicêtre on November 11th, 2007

Mr Lazare Ponticelli (109 year-old), one of the last two surviving "Poilus" (french soldiers of WW I) participated as every year on November 11th, in the moving commemorative ceremony of the end of the Great War (1914-1918). He came and paid a tribute to his companions fallen for France during this war, in the presence of a large crowd.
This ceremony took place (as every year) in front of the War Memorial of his town, Kremlin-Bicêtre, near Paris, in the departement of Val-de-Marne. In spite of the cold and his old age, Lazare Ponticelli, accompanied by the authorities, walked to the War Memorial, to lay down a bunch of flowers. That's what he does every year, as he had promised to one of his companions.
He commented on his attending this ceremony regularly by declaring a few years ago : " the horror of this war, I shall not forget it, neither for me nor for those who died. That is why I go on November 11th to the war memorial ".
Interviewed at the end of the ceremony this November 11th, 2007, this veterant of the Foreign Legion, was happy to notice that young people joined more and more to this event, reminded " the importance of the memory, and that it was necessary to learn from the history".